360

°

IMAGERY
With interactive panoramas becoming a standard feature on many social platforms, 360° media has taken its rightful place the ever-growing line up of imagery options to choose from. The power of 360° imagery comes from the experience and degree of control given to the viewer; they control exactly where they look at all times.
360° virtual tours showcase your physical location like nothing else. Your virtual tour is fully customised to meet your specific needs, there are limitless call-to-action options and user interactions. As Trusted Google Street View Photographers, our 360° panoramas can also be submitted to Google Maps and Street View. We have over 100 panos submitted to Google Street View, some with over 100,000 views.
360° video creates an even higher level of experience, combining the interactive 360 degree viewing with moving imagery and story telling. Ideal for use across social media platforms such as Facebook and for direct sales in-person, alongside our Oculus Go VR headsets. With aerial perspectives in both our 360° videos and virtual tours, we are literally your do-everything media team!
360

°

panoramas with aerial perspectives
Comprehensive virtual tours embedded on your website
Specialists in tourism, sports & recreation
Trusted Google Street View Photographers
Stock 360

°

Imagery available to license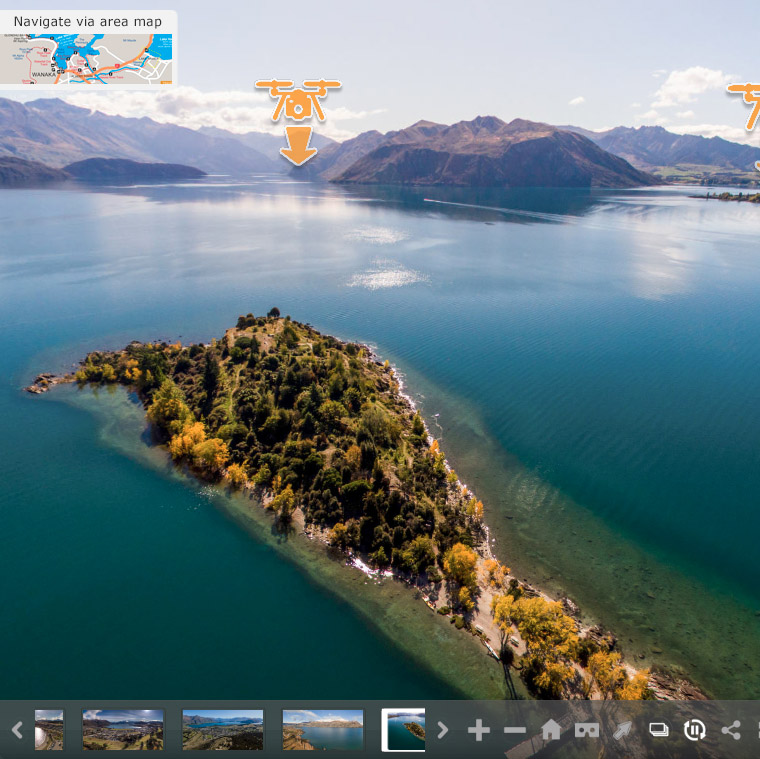 Check out our 360° aerial virtual tour shot over the stunning lakes and mountains of Wanaka, New Zealand, complete with map navigation and information hot spots.
Destination Coromandel approached us to create an aerial 360° virtual tour to be used on their website and on VR headsets, taking viewers on a journey to 21 locations around the Coromandel Peninsula, from Cathedral Cove to Whangamata.
3-mins-in-360 Video Series
We felt a need to showcase the full potential of 360° video. So we created a 360° video series that takes viewers on adventures that they would otherwise be unlikely to experience.
Let's get creative!
Big or small, drop us a line with what you're thinking…