After five years of running New Zealand's first virtual tour centred information website, 360queenstown-wanaka.com, we decided to close the doors and focus on our service offerings as 360nz.



How 360qw began
Working alongside the already established 360niseko, the first version of 360qw had a simple, easy-to-use design and a custom-made back-end platform. It had good content, but was limited in functionality and aesthetics.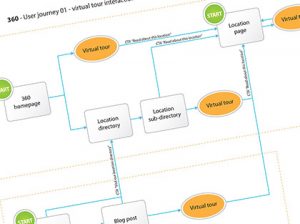 In 2015 we redesigned the platform, looking specifically at how people use the website, redefining the business goals, and finally making the decision to move over the WordPress. We took the original concept, rethought the site's architecture, researched the user-journeys, clearly defined the unique points of difference, then created a new design with all of those aspects at the forefront.
Why it came to en end
After two more years with a redesigned platform, it was clear that the business model was not strong enough for the competitive environment of NZ tourism websites. Even though we totalled over 1000 location listings and hundreds of 360° virtual tours, our revenue model was not able to complete with the bigger international players.
Throughout the five years of 360queenstown-wanaka however, we had a consistent demand for our 360 degree imagery and filming services, not to mention web design itself. And so the evolution begun… from a content-focused web platform to the creative digital media agency we are now.
Where are all the virtual tours now?
We have a huge number of 360° panos and virtual tours on file, ready to be used for what ever purpose. We do still host virtual tours for businesses that have chosen to embed the tour on their own websites and we publish individual 360° panos regularly to both Facebook and Google Street View.
Check out a selection of our published panoramas on Google.
Or enjoy exploring Treble Cone Ski Resort in this 50-pano virtual tour with trail map functionality…
Your browser does not support iframes.